GOOGLE CERTIFIED EDUCATION BOOT CAMP
Become a G Suite for Education Level 1 Certified Educator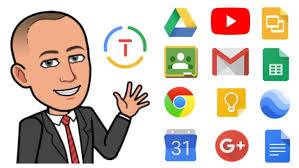 Don't be fooled by the Level 1 reference in the title!
Powered by Using Technology Better
This boot camp is a fast paced, 2 day course that covers all of the main G Suite tools and how to use them in the classroom. You will also sit the 3 hour Google Certified Educator exam, where you will demonstrate your knowledge via 20 multiple choice and 11 practical scenario questions.
This training is not all about the certification though! It will be a rich, hands on experience with lots of ideas about how you can implement G Suite effectively in your classroom and school.
During this two day course you will:
Explore a range of G Suite for Education tools including Gmail, Calendar, Hangouts, Tasks, Sites, Google Drive, Docs, Sheets, Slides & Forms, Google Classroom, Search, YouTube, Google Groups & Chrome.

Be guided through the Google for Education Level 1 course in a way that will fast track your learning and build new skills in teaching with Google tools.

Gain the knowledge and skills needed to successfully pass the Level 1 exam.

Take the exam in a supportive environment after using our practice exam questions to prepare.
Why attend a boot camp?
One attendee said: "Firstly is time, setting aside two solid days to consolidate my knowledge, fill in the gaps and actually sit the exam is a whole lot easier than trying to go through the training modules individually over a much greater period of time only to worry at exam time about something I looked at and possibly weeks prior."
"I came away with so many great ideas above and beyond just completing my Level 1 certification that I ended up implementing in my classroom, it only left me wanting more and I didn't hesitate to sign up for the level 2 bootcamp when the opportunity arose."
Easily Boost Your Google Knowledge ✓
Express Interest In This NESA Accredited Boot Camp (PD) By Using The Form Below: